NIGEL'S EARLY CHURCH CONNECTIONS 2.
Because of my knowledge of Nigel's life, an article in the Sunday Times ( Scotland ) newspaper 0f 14/03/2002 caught my attention. It featured Mansfield Place Church in Edinburgh and the fight that is going on to preserve its famous murals, painted by the artist Phoebe Traquair from 1893 to 1901. Referred to in the newspaper article as the 'Scots Sistine Chapel' Traquair went to painstaking lengths with her murals. The church closed for worship in 1958 and has deteriorated since then. Bought now by the Mansfield Traquair Trust it is being renovated.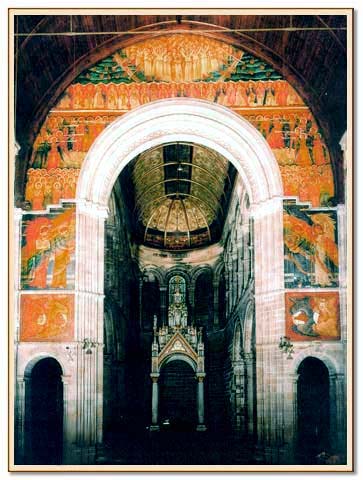 The Tranter interest
Mansfield Place Church was the centre of the Catholic Apostolic Church in Edinburgh to which Nigel's family belonged. His father, Gilbert, was a minister in this church and he married Nigel's mother Eleanor Cass, whose father was also a minister in the same denomination, in Mansfield Place Church on 11th May 1906.
As a boy, on the family's return to Edinburgh in 1914, Nigel attended Mansfield Place Church every Sunday. Indeed once the family moved to Aberlady they continued to travel to Mansfield Place every Sunday.
Ray's biography of Nigel is well worth a read again on this aspect of Nigel's life.
This will be especially relevant if you go to the Mansfield Traquair Trust web site, which I found while browsing about Phoebe Traquair. We can only conjecture the extent to which this marvellous architecture and visual panoply may possibly have been a stimulus to the imagination of the young Nigel who may well have been transported into another of his 'Enchantment' phases by the rich artistic symbolism that was all around him. Especially one imagines if the sermon was a bit tedious that day !!!!!!
If you would like a detailed look at the murals that would be very familiar to Nigel, plus a very good account of the C.A.C. and Mansfield Church in particular, please go to the Mansfield Traquair Trust web site at;
I hope you find this, more unusual, aspect of Nigel's life of interest.
RETURN TO